self-taught, resolutely grid-free graphic design legend david carson is bringing his distinctive and experimental approach to MasterClass, the streaming platform where anyone can learn from the world's best across a huge range of subjects. carson, one of the most innovative and pioneering graphic designers in the world, came to the field relatively late in life, having been a competitive surfer — ranked eighth in the world — and a california high school teacher. 'for me, graphic design is a full second career, and it didn't take off until I was in my 40s, so there is always time and hope,' carson tells designboom. 'that's something I hope members take away from my MasterClass.' by the early '90s, carson was the art director at ray gun magazine, and in 1995 he opened his own studio, david carson design, where his unconventional style transformed the graphic design scene in america.

image courtesy of MasterClass
in his MasterClass, carson shares his personal thoughts and techniques on how to cultivate creative instincts, turn mistakes into opportunities, and experiment with typography and photography. through a series of student workshops, as well as logo design and collage demonstrations that showcase his own personal portfolio, carson gives viewers insight into his design decision making process, and shares the principles behind his work. 'with teaching graphic design, it never feels like work,' he tells designboom. 'it's fun and hopefully inspiring to those that feel my passion for it.' carson's MasterClass also offers deeply personal practices, like trusting your gut to guide decisions and composition, and breaks down his bold thinking, highlighting the importance of working on an emotional and instinctual level, rather than following convention.
designboom spoke with david carson about using his personal portfolio as a teaching tool, the evolution of his work, and which MasterClass he'd personally most like to take.

image courtesy of MasterClass
DB: in general, what appeals to you about teaching?
david carson (DC): when it came to joining MasterClass — and teaching in general — I think there's something really rewarding with passing on what one's learned. and I don't mean MasterClass members just copying the info I have given them but taking it in their own direction. I earned a lifetime teaching credential in california because I knew it was something I enjoyed, and felt I could be good at. later, when I discovered my true passion for graphic design, I quickly realized how satisfying and fun it was and is for me to teach it. with my degree in social sciences and emphasis in sociology, I also had some time teaching history and economics — and that was work. I had to study the night before, use notes etc. with teaching graphic design though, it never feels like work. it's fun and hopefully inspiring to those that feel my passion for it. I can be a bit of an introvert, and something about sharing to large groups of people is something I've had to develop and now really enjoy — and what better large group than those on MasterClass.

image courtesy of MasterClass
DB: as a self-taught designer, is there something you share in your MasterClass that you wish you would have learned when first starting out?
DC: I've been lucky that things have gone so well in my career, but as I've tried different types of courses and schools, I've realized that there are many ways to get your education. whether it's lectures, conferences, school classes — you don't have to be limited to one source. for me, graphic design is a full second career, and it didn't take off until I was in my 40s, so there is always time and hope. that's something I hope members take away from my MasterClass. I never learned the things I wasn't supposed to do, which, in my case, worked out pretty well. however, if I better understood how important it is to trust one's self and intuition, I would have been even more experimental earlier. I had a watercolor teacher tell us to always listen to music you like while you work and you'll do your best work. I've never forgotten that. I wish I had learned earlier that it's fine to show a lot of ideas to clients. those are some of the insights I share in my MasterClass for creatives in any field.

beach culture magazine, october 1990 | read more on designboom here
DB: how do you adapt education to a virtual format as opposed to in-person? what possibilities do you think online lessons can open up?
DC: with a platform like MasterClass, it's somewhat the same approach, just minus the instant and spontaneous feedback. I personally prefer in-person, as I love to see people work and have an ongoing dialogue, but that limits the number of people who actually can experience what it is I'm trying to offer. with the virtual format of MasterClass, the main advantage is you can reach people who aren't able to attend an in-person event. they can also watch at their leisure, rewatch, and even pause to go outside and throw the ball with the dog. from the perspective of the student, they can really concentrate on the content, not the numerous distractions in college or other classes. virtual education opens up exposure to instructors and ways of seeing the world you could otherwise easily miss.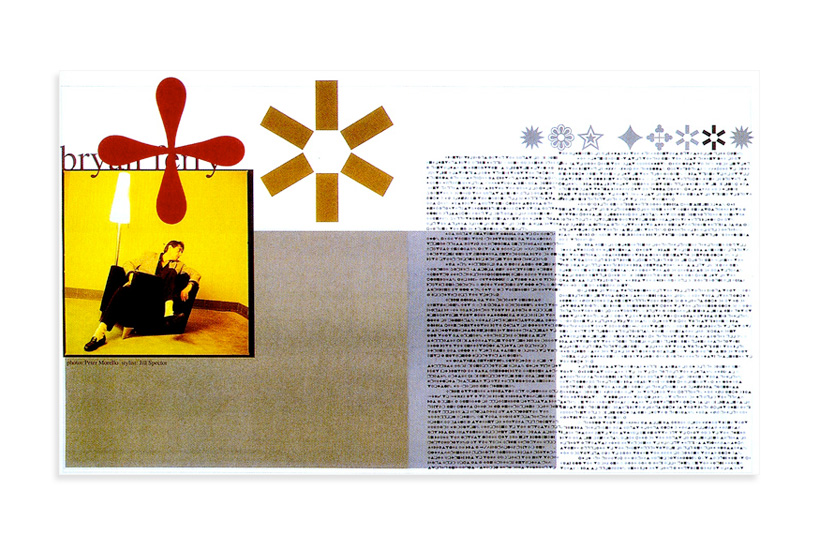 spread for ray gun magazine | read more on designboom here
DB: you use your personal portfolio as a teaching tool in the lessons — how would you describe the evolution of your work over the years?
DC: I like to think the basic approach to my work is somewhat the same, and I ask many of the same foundational questions: who is our audience? what are we trying to say, to get people to feel, and what would that look like?
that said, some of the specific aspects of the craft have changed. I don't use as many experimental fonts, as I think it's more about *how* you use the ones you choose, and since every job has its own set of requirements and uniqueness, each one sends me in a unique direction. I never use a formula or apply a certain pre-existing look or grid to a new assignment, and I've gotten back to more hands-on work with collaging. I also take and use more of my own photos now, partly because of the ease it can be done. it's an essential tool as a designer and highlights the idea of your uniqueness being a strength. these days, everyone in the world who owns a phone is a photographer, and most of them take fine, even great quality photos. but no one has your eye or your unique way of seeing the world, and that is what I really hope people take away from my MasterClass.

ray gun magazine, january 1995 | read more on designboom here
DB: if you could teach a MasterClass about something unrelated to design, what would it be?
DC: I have a number of answers for this one. some of the MasterClass topics I'd want to teach include: how best to stay engaged in life and work as one ages; abstract painting and collage; surfing through life; turning hobbies and interests into careers; appreciating kurt vonnegut; photography and architecture; and — soon — some aspects of virtual reality. it is a tough question though because I've never really separated what I do for fun and for work. I make my living from my hobby. I don't spend my week at a job I don't like and wait for the weekend or separate my personal and 'real work' — it's all personal and rarely feels like work.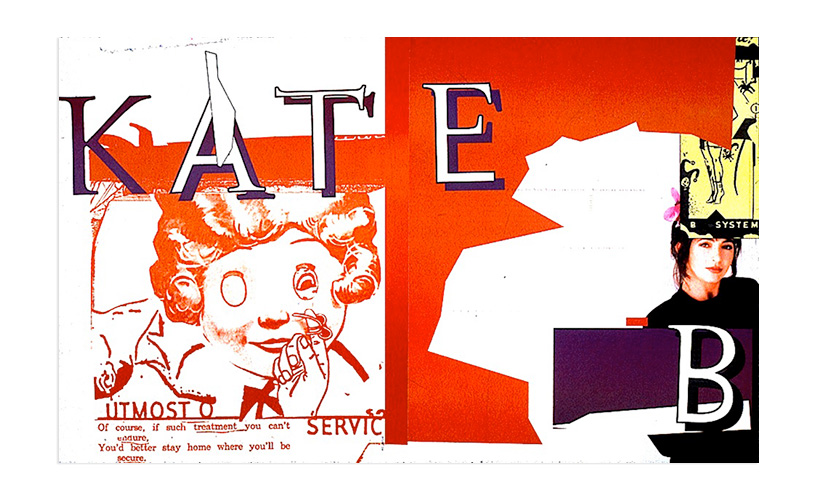 opening spread for article on singer kate bush in ray gun magazine | read more on designboom here
DB: what MasterClass would you most like to take?
DC: I'd love to learn more about filmmaking with david lynch, martin scorsese and spike lee, photography advice from annie liebovitz, and architecture tips from frank gehry. a huge part of MasterClass is the opportunity to immerse yourself in a topic that you know little or nothing about.

image courtesy of MasterClass