The global electric car market is growing exponentially.
Worldwide sales hit 6.6 million in 2021, almost doubling from the previous year.
But carmakers must overcome challenges such as rising material costs and potential shortages of microchips to maintain market growth.
Think back a decade. In 2012, the nascent electric vehicle (EV) market was starting to gain momentum, with global sales of 130,000 cars. Today, that number of electric cars is sold every week.
While the market for petrol and diesel cars has been dampened by the economic fallout from COVID-19, demand for EVs continues to increase.
Factors like climate change and commitments to reach net-zero are helping drive the global shift to emissions-free motoring.
Moving to clean energy is key to combating climate change, yet in the past five years, the energy transition has stagnated.
Energy consumption and production contribute to two-thirds of global emissions, and 81% of the global energy system is still based on fossil fuels, the same percentage as 30 years ago. Plus, improvements in the energy intensity of the global economy (the amount of energy used per unit of economic activity) are slowing. In 2018 energy intensity improved by 1.2%, the slowest rate since 2010.
Effective policies, private-sector action and public-private cooperation are needed to create a more inclusive, sustainable, affordable and secure global energy system.
Benchmarking progress is essential to a successful transition. The World Economic Forum's Energy Transition Index, which ranks 115 economies on how well they balance energy security and access with environmental sustainability and affordability, shows that the biggest challenge facing energy transition is the lack of readiness among the world's largest emitters, including US, China, India and Russia. The 10 countries that score the highest in terms of readiness account for only 2.6% of global annual emissions.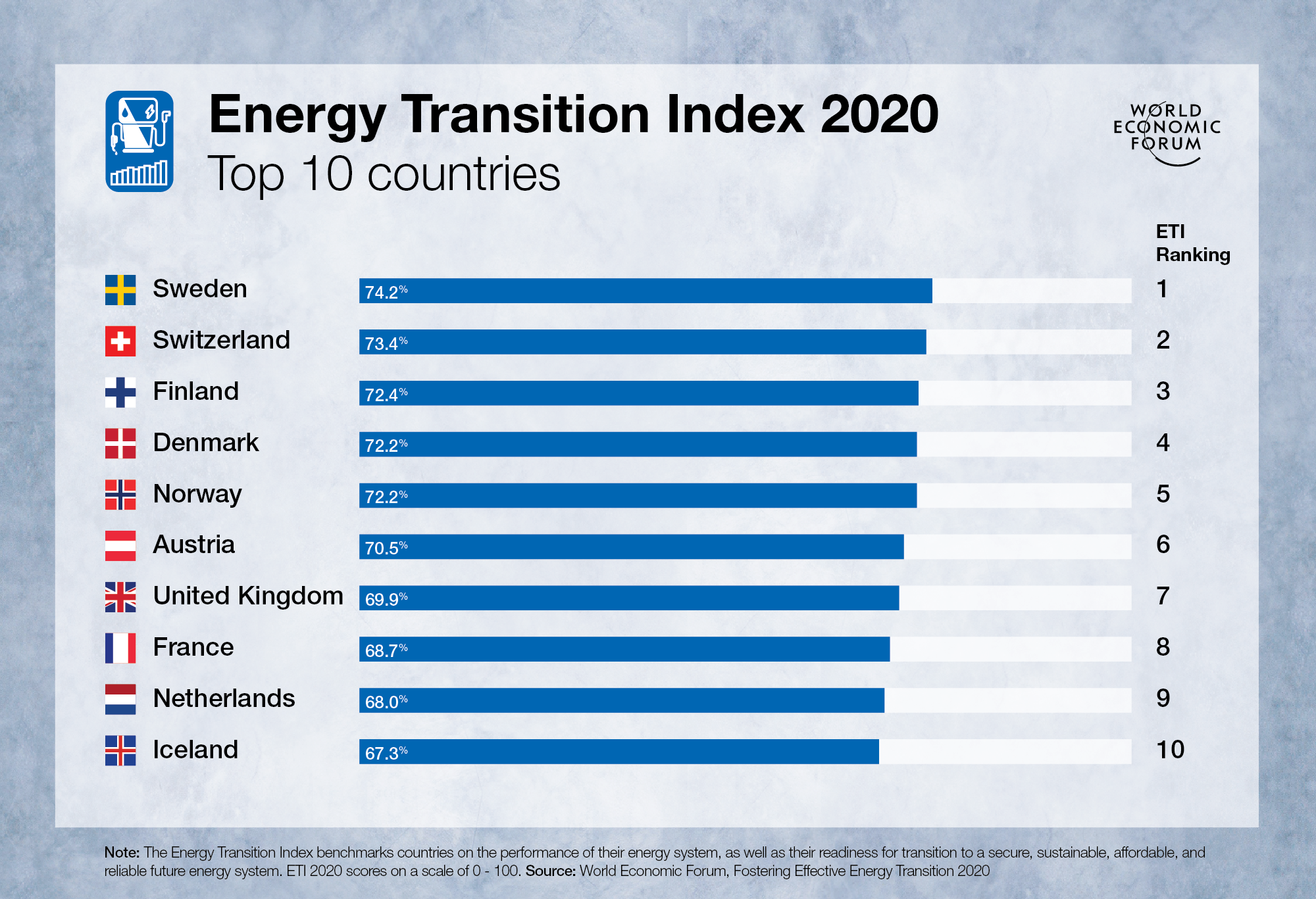 Additionally, the Mission Possible Platform (MPP) is working to assemble public and private partners to further the industry transition to set heavy industry and mobility sectors on the pathway towards net-zero emissions. MPP is an initiative created by the World Economic Forum and the Energy Transitions Commission.
Is your organisation interested in working with the World Economic Forum? Find out more here.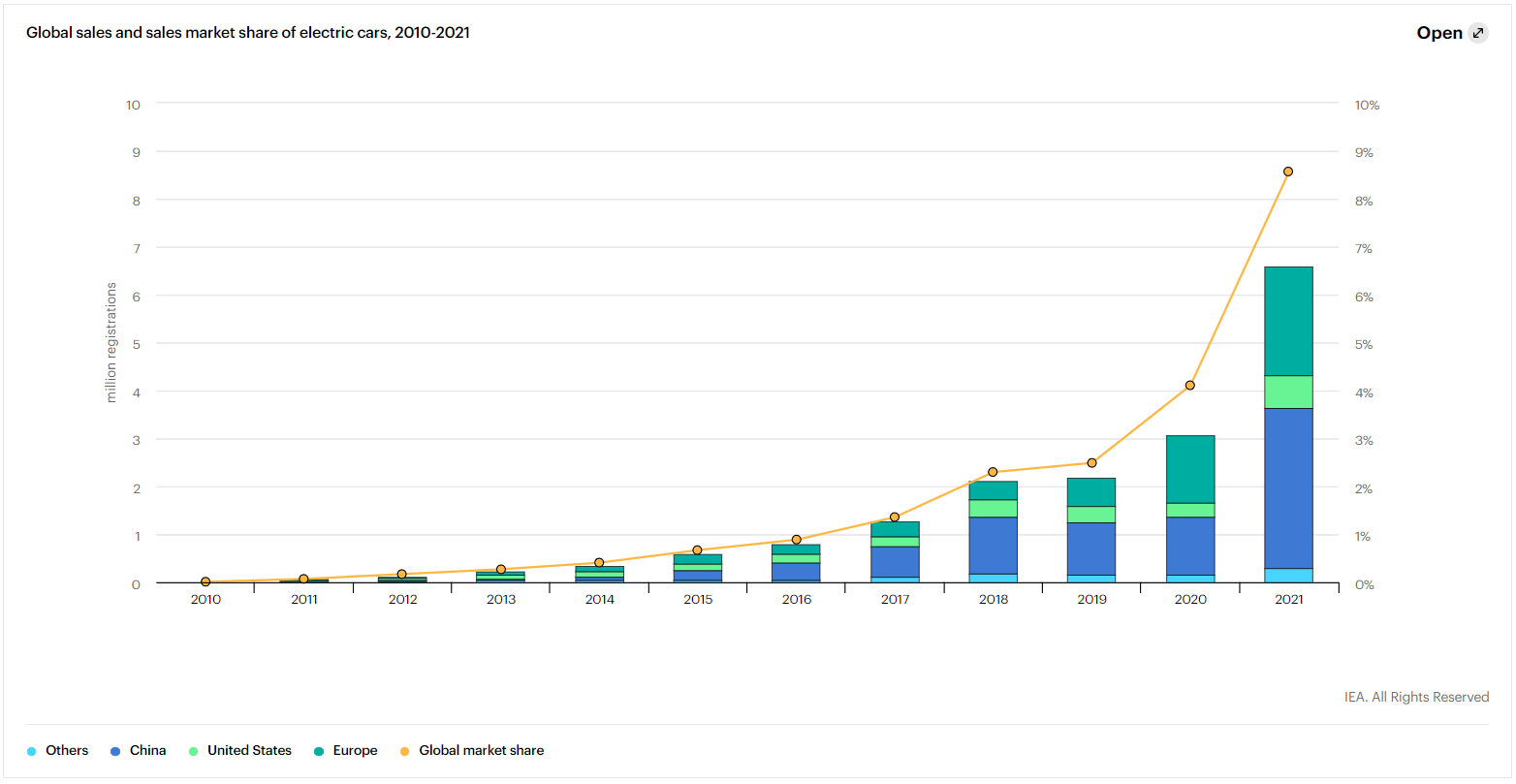 Global sales of electric cars reached 2.2 million in 2019. A year later, while demand for conventional cars contracted, sales of electric cars rose to 3 million, accounting for 4.1% of the world market, according to the International Energy Agency (IEA).
Market momentum has continued, with EV sales more than doubling on the year in 2021 to 6.6 million – accounting for almost 9% of the global market. All net growth in car sales around the world in that year came from electric vehicles.
There are now around 16 million electric cars on the world's roads, according to an IEA estimate. While operating these vehicles requires the equivalent of Ireland's total electricity generation, they prevent CO2 exhaust emissions reaching the atmosphere – think of it as removing 16 million oil-fuelled cars from the roads.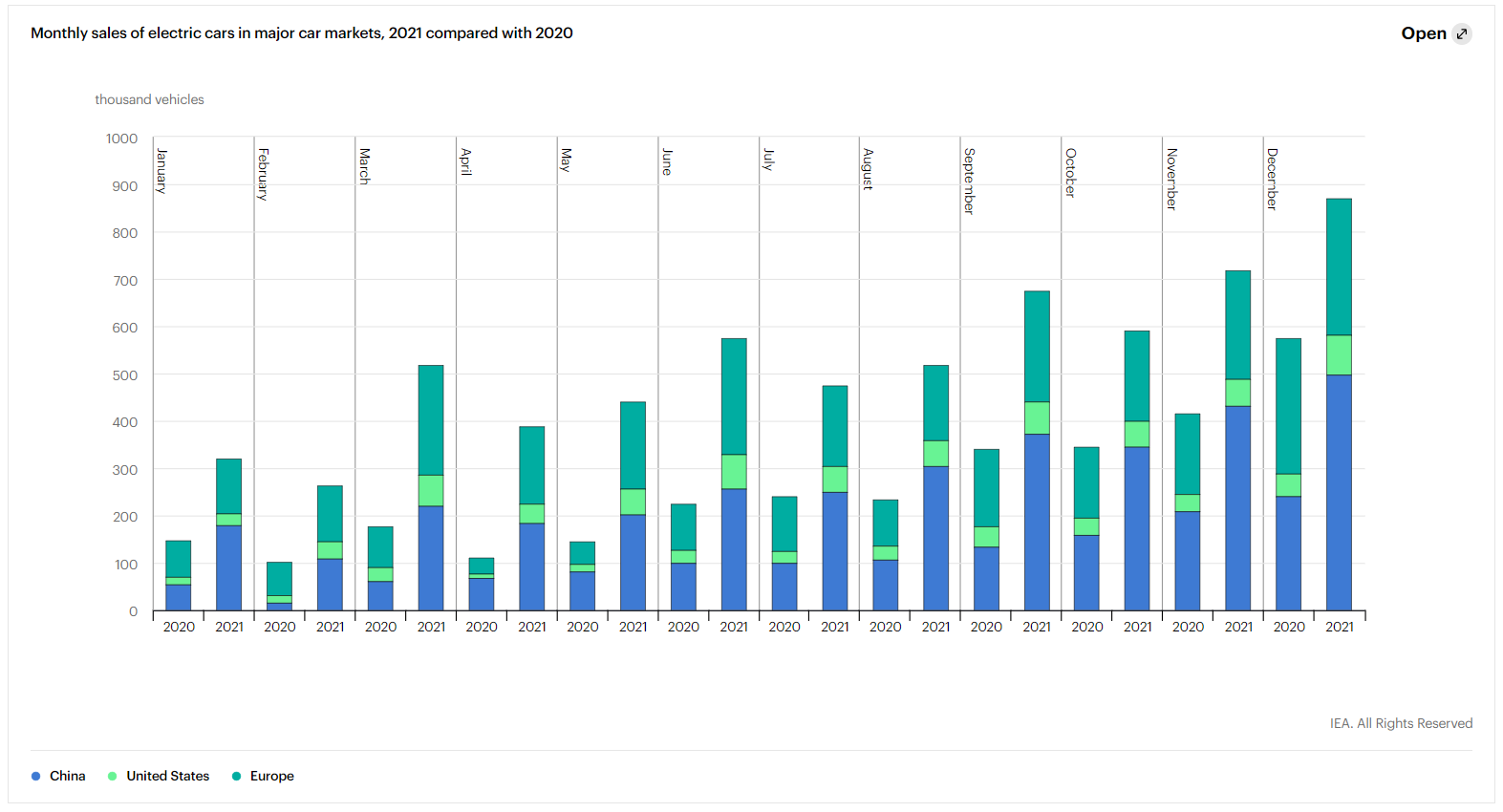 Total monthly car sales tend to follow an upward trend as a year unfolds. That said, 2021's sales in the top-three global markets – China, the US and Europe – were more than 50% higher for each month of the year than in 2020.
In China, the world's fastest-growing EV market, sales doubled in each month of 2021 compared with a year earlier. Overall in 2021, more electric cars were sold in China than were sold throughout the world in 2020.
Europe experienced 70% market growth, selling 2.3 million fully electric and hybrid electric vehicles in 2021, while US sales more than doubled to beyond half a million vehicles.
The numbers look positive for continued market growth across major markets, but the road ahead for electric vehicles may contain some hidden bumps.
Auto manufacturers must contend with looming supply-side challenges, including increasing bulk material costs. Steel prices doubled in 2021, with aluminium prices spiking by up to 70% and copper up by more than a third.