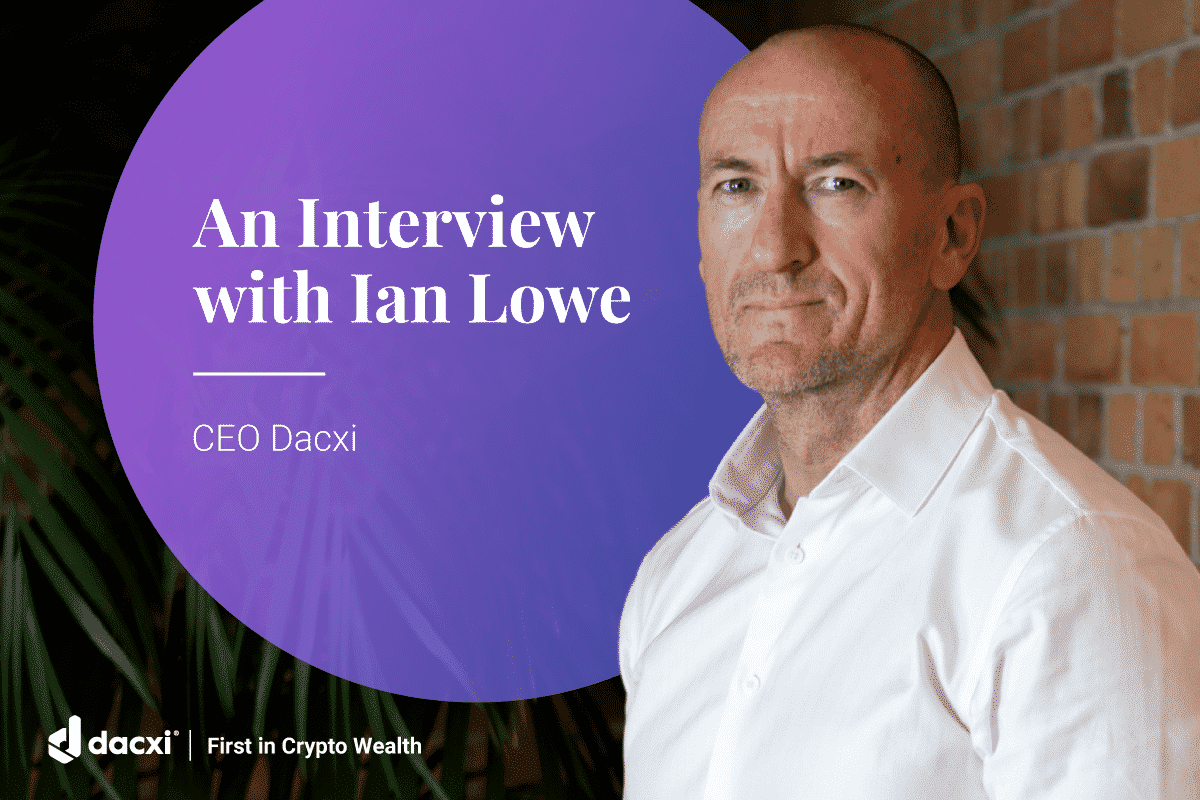 Tokenization is making waves in the world of crypto and beyond. The process of creating digital versions of physical assets is making its way into numerous industries – from real estate, to fine art. Making it possible for everyday people to own a fraction of an asset, and opening the door to a whole new host of investment opportunities.
Global Crypto Wealth company, Dacxi, is a firm believer in the potential of tokenization to revolutionize wealth creation. One realm in particular that Dacxi believes could be transformed by tokenization is equity crowdfunding. As early as 2017, Dacxi's founder recognised the issues with the current crowdfunding system – and tokenization's potential to solve them.
The seed of an idea was planted, and that idea became the Dacxi Chain; the world's first global tokenized equity crowdfunding system. We sat down with Dacxi CEO, Ian Lowe, to discuss the Dacxi difference, the future of tokenization, and how the Dacxi Chain will help unleash innovation potential around the world.
What makes Dacxi different from other worldwide wealth management businesses?
Many wealth management businesses are traditional companies trying to adopt and adapt to this new world of digital assets. Dacxi is different, because it's a digital native. Dacxi was born in and of the digital era, which means we truly understand the power that crypto and tokenization have to change the way we build wealth.
This innate understanding has informed what we call 'the Dacxi Difference'; Platform, People, and Performance. Our platform is purpose-built, simple, and secure. Unlike complex exchanges, it's designed for everyday investors to understand and decode crypto. Our people are utterly dedicated to helping our clients achieve success. We have in-market Client Success teams, and we run regular events and forums where our community can connect and learn. And we're highly focused on performance – providing a carefully curated set of investible crypto assets, which are clearly explained to potential buyers. We also offer Bundle products, which make it simple to start building a portfolio of investible digital assets. And we have our own educational platform, called Dacxi LEARN, which is designed to help individual investors and financial professionals understand the ins and outs of crypto.
How does Dacxi define a 'wealth asset'?
At Dacxi, we see wealth assets as any asset designed to build your wealth. That could include property, shares, fine art – the list goes on. However, as a Crypto Wealth company, our particular focus is on digital wealth assets. This is the exciting new asset class of crypto and digital tokens, which is using blockchain technology to change the financial landscape as we know it.
What part does tokenization play at Dacxi?
Tokenization plays two important roles at Dacxi. The first is that it allows us to offer multiple asset classes on our platform – which gives everyday investors frictionless access to a growing spectrum of assets.
The second is that it's a key part of the technology behind the Dacxi Chain. The Dacxi Chain is poised to become an innovative wealth-building tool, democratising global innovation funding and making it accessible to investors and entrepreneurs everywhere. This will create a more equal innovation funding playing field, and could make thousands more businesses and ideas a reality each and every year. This is a core focus of Dacxi, and it's being made possible by tokenization.
How does tokenization work?
Put simply, a token is a digital record of ownership. Almost any asset class can be tokenized, and in the process can be given universal access, ownership, and ease of disposal.
Tokenization is already used to represent assets such as property and commodities. It will continue to evolve, and in the near future tokens will also be made to represent listed shares and even private equity. Analysts believe the global tokenization market will be valued at $24trillion by 2030.
Dacxi is an innovator in the tokenization segment. We have already tokenized precious metals such as Gold, Silver and Platinum. And we're continuing to use tokenization in innovative ways, with the Dacxi Chain.
Why does Dacxi offer tokenized precious metals?
Precious metals are probably the oldest asset class on the planet. Historically, they have played an important role in a portfolio approach to wealth building, particularly as an offset to listed equity markets volatility and inflation.
But investing in precious metals also comes with a number of high barriers to entry. It is difficult to store the asset, protect the asset and insure the asset. This means despite their popularity as an investment, few everyday investors actually own precious metals.
Tokenization solves all of these problems. A digital record of ownership is portable and immutable. It's easy to buy and sell. And it's safe, as the physical metal is stored, vaulted, audited and insured for every investor.
How does Dacxi select the digital assets it offers to its clients?
Each asset available on the Dacxi platform has been carefully selected by our expert team. Our focus is on assets that have proven to be high-performing or high-potential. That includes leading cryptos such as Bitcoin and Ethereum, and leading blockchain technology and infrastructure providers such as Polkadot, Stellar, and Dacxi Coin. We also offer assets that are popular forms of wealth protection, such as our precious metal tokens.
We curate our investment catalogue based on a strict set of criteria, and only the assets that meet these standards are made available to our clients. This is extremely important to us, because it means our users can invest in each asset on the Dacxi platform with a level of confidence, knowing that much of the hard work and research has been done for them.
What are the benefits of owning tokenized wealth assets?
There are many benefits to owning tokenized wealth assets. These include ease of access, proof of ownership (made possible by the blockchain), higher liquidity, and of course the convenience of being able to make investments quickly and easily online.
The other obvious benefit is the lack of geographical barriers. With tokenization, you could be based anywhere and enjoy the same level of market access as anyone else. The implications of this are significant across a number of industries. For example, with crowdfunding, the ability to make cross-border transactions would give entrepreneurs access to a global investor community to secure the funding they need to take their companies to the next level, regardless of where they are based.
How is Dacxi using tokenization to revolutionize the crowdfunding sector?
At Dacxi, we believe that investment in high-growth private companies is one of the most significant opportunities for tokenization. Often referred to as 'private equity', these investment opportunities have typically been unavailable to the everyday investor. And even if a private equity investment is made, it's almost impossible for the investor to sell their equity without waiting for the company to be sold, or a further large investment round secured. Crowdfunding has emerged to address some of these issues, but faces separate limitations around scale and market regulation.
Dacxi sees the tokenization of crowdfunding as the solution to these limitations, and a material global market opportunity. This is why we're using blockchain-based technology to build the Dacxi Chain; the world's first global tokenised crowdfunding platform.
The Dacxi Chain will create digital tokens representing company shares, which will be able to be quickly and easily bought and sold via local platforms operated by locally licensed companies. This system will effectively democratize investment, and make it possible for anyone anywhere to invest in growth companies and projects all over the world – without the traditional barriers of geography, language, and financial status. Whether an entrepreneur is in a developing country or Silicon Valley, the Dacxi Chain provides them the same opportunity to realise their potential.
This marks the shift towards a new world, in which high-growth investments are no longer restricted to the elite few, and everyone has equal access to wealth creation opportunities. That's the world Dacxi is working to make a reality.
Disclaimer
The presented content may include the personal opinion of
the author and is subject to market condition.
Do your market research before investing in cryptocurrencies.
The author or the publication does not hold any responsibility
for your personal financial loss.