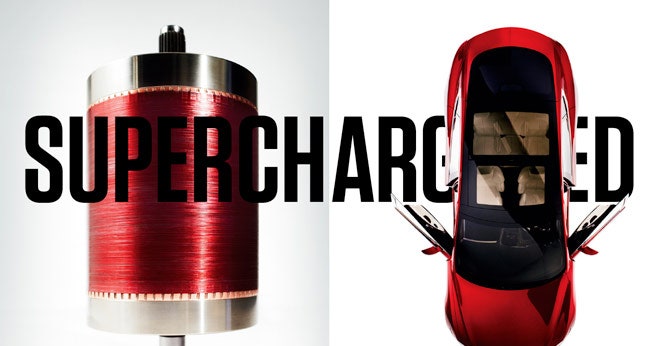 The clock is ticking. Musk says Model S production will start in 2012, less than two years from now. To help him pull it off, Musk has hired an impressive roster of seasoned automotive engineers and manufacturing specialists. Gilbert Passin, the former Toyota executive in charge of the Nummi factory, joined Tesla in January. Peter Rawlinson, formerly a top engineer with Jaguar and Lotus, is now Musk's top Model S engineer.
Rawlinson is tasked with rapidly finalizing the sedan's specifications in advance of fabrication, and he hosts Musk's walk-throughs. He guides his boss over to the "noise, vibration, and harshness" team, whose job is to minimize all three unwanted attributes. The engineers replay their latest simulation, which shows that the Model S will be quieter and smoother on the road than most other cars.
"Sweet," Musk says while examining the data. "We're gonna have the highest torsional frequency ever."
Roger Evans, a noise, vibration, and harshness engineer, points out that the battery pack actually makes his job easier. Evans spent 15 years at Ford trying to make cars and trucks quieter. Out of necessity, Ford's designers placed a tunnel in the frame of their combustion vehicles to make room for exhaust pipes and a driveshaft. It makes a car less stiff and creates more noise, but there was nothing to be done about it. Now Evans doesn't have to contend with exhaust pipes and a driveshaft—the car's underbelly is perfectly flat, resulting in increased rigidity. The battery pack sits in a 9-inch-deep rectangular metal frame that's bolted onto the floor of the car, adding even more stiffness. The vehicle has a vibration specialist's ideal contours, and Evans seems almost giddy as he explains to Musk the platonic ideal he's achieved.
Rawlinson's other engineers pull up simulations that show the car will feature superb aerodynamics, road handling, and safety attributes. On the computer, the car performs better than an Aston Martin, costs significantly less, and can stow a surfboard.
"I just hope we get good correlation with our predictive models," Rawlinson tells Musk.
In other words, Rawlinson hopes that they can actually build a car as cool as the one on their computer screens.
At the Nummi plant the following week, Musk dons a hard hat and surveys his new factory. A 60-foot-tall wrecking machine tears down a wall, making way for what will eventually be a Tesla assembly line. Right now, it's just a dusty pile of rubble.
Passin, head of manufacturing, leads the way into the plastics factory, a separate building filled with hulking bumper-making machines. The contraptions are so big, Musk and four Tesla executives walk inside one to inspect it. They're surrounded by metal walls designed to slam together to mold bumpers. The unit is off and the walls are far apart, but there is a sense that they could pound in at any moment. It feels like standing inside a gargantuan trash compactor.
Musk seems to like the space. "The great thing about this place is that it sets us up for the next generation after the Model S," Musk says. "We could have 250,000 cars coming out of here in five years."
That is, if Musk can pull off the Model S. The factory is currently set up to produce cars made of steel and uses magnets to lift and position parts. To cut down on weight, the Model S will be built out of aluminum, which isn't magnetic. Passin plans to retrofit machinery with suction cups to work around the problem.
There are plenty of other obstacles: Tesla has to hire a workforce, deal with the unions, and wrangle parts suppliers for which 20,000 cars is still a small number. And if and when the Model S does roll off the line, Tesla will have to face a marketplace crowded with electric car competition from big-league manufacturers like GM and Nissan.
None of this seems to bother Musk.
Tesla's financial situation has turned around, he explains. He finally has the capital and the infrastructure to transform the company.
Not that the road ahead is totally smooth.
"I'm not staring into the abyss of death anymore," Musk says. "I'm just eating glass now."
Contributing editor Joshua Davis (www.joshuadavis.net) wrote about flushless urinals in issue 18.07.