Industry: Computer Software/Services
PDF Viewer for WordPress is the most famous PDF Reader plugin for WordPress, being used by thousands of websites since its first release on July 07, 2014.
Wyoming, United States (PRUnderground) August 11th, 2020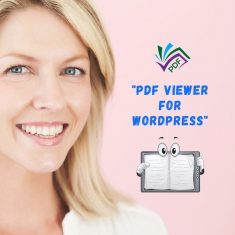 This plugin Introduced a completely new era of PDF display on WordPress sites & maintaining the trust for years now with regular updates, improvements & awesome support! Products details at https://codecanyon.net/item/pdf-viewer-for-wordpress/8182815/
PDF Viewer for WordPress is a must-have for almost everyone who owns or maintains at least a WordPress website & the website contains PDF files. No matter what the PDF file contains, it's always important to ensure the best visibility of 100% of your content. PDF Viewer for WordPress makes it easier as the viewer is responsive, works on all modern browsers, works on any devices and operating systems like Windows, macOS, Linux, android, ios, and any other.
Recently We've released a big update to the plugin that includes a new exciting & one of the most awaited features. That is the FlipBook Mode. Now you're getting 2 features (Regular PDF reader + Flipbook PDF Reader) for the price of one. The new flipbook mode allows you to read pdfs just like books. It's so smooth, nice & clean.
This update also contains some other minor fixes and improvements like fixing small issues on iframe view, Fixing return to site button linking issue, adding a new WhatsApp share icon, fixing the missing image, adding a next/previous button and some other minor improvements.
Overall, This is a very essential plugin to increase the visibility and usability of your PDF files. There are addons available for WPBakery Page Builder, Elementor Page builder, and another addon that lets you use multiple viewers on the same page easily. Also, You can use it in combination with "WP File Access Manager ",
Another awesome plugin by ThemeNcode which lets you control access to any of the files in your media library. It helps you to set access for every single file. There are a bunch of options to provide access using. For example, you can allow or disallow access to any file by a user, by user roles, by login status and the most exciting thing is, you can even provide access to files based on the purchase of a Woocommerce product!
Wait, That's not everything yet! if you're planning to sell memberships on your site and display files to subscribed users only, that's also possible using "WP File Access Manager"! It comes with integration with the "Paid Memberships Pro" plugin, which is a very famous membership plugin. You can set access to files based on paid memberships pro levels. That's awesome. Right?
These are just a quick glimpse of what you can achieve with the PDF Viewer for WordPress & WP File Access Manager plugins by ThemeNcode, there is still a lot more to explore and lots of exciting updates are on the way as well. Visit https://codecanyon.net/item/pdf-viewer-for-wordpress/8182815/support/ for more details and say Hi to us for more information.
About PDF viewer for WordPress
WordPress PDF Reader and Flipbook