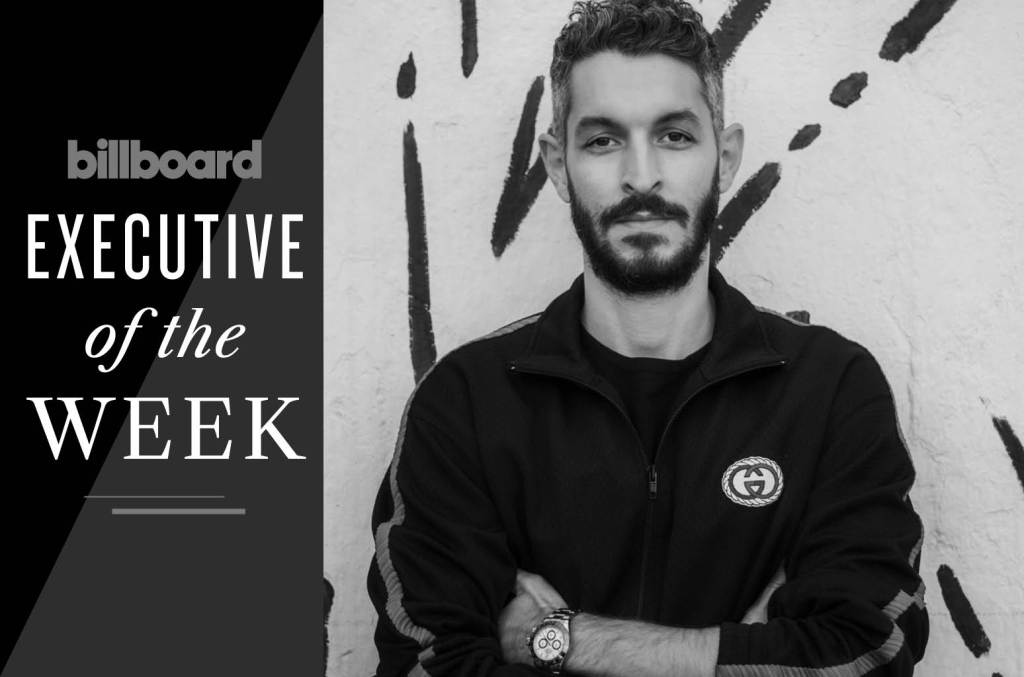 Prior to this week, the top tier of the Billboard Hot 100 in 2022 had been dominated by holdover songs from past years: 2021's "We Don't Talk About Bruno," 2020's "Heat Waves" and "Stay." But that all changed this week, as Harry Styles' latest single, "As It Was," flew in with a No. 1 debut on the Hot 100, his second Hot 100 No. 1 (after 2019's "Watermelon Sugar"), setting the table for the upcoming release of his third solo album, Harry's House.
But "As It Was" wasn't just the first big mega-hit of 2022 — it was also a streaming juggernaut, coming in with 43.8 million streams in its first week, the biggest streaming week of 2022 so far, and becoming not just Styles' first No. 1 on Billboard's Streaming Songs chart, but his first-ever top 10 on the list. And it helps earn Columbia Records' senior vp/co-head of digital marketing and content development Manos Xanthogeorgis the title of Billboard's Executive of the Week.
Here, Xanthogeorgis speaks about the big streaming splash that Styles made upon his return, the song's worldwide appeal — having also come in at No. 1 on both of Billboard's global charts this week — and how digital marketing strategies shift with each passing year. "Digital marketing today is a blend of art and science," he says. "[It] requires you to be bold, brave, ready to take risks and most definitely ready to fail."
Harry Styles' "As It Was" debuted at No. 1 on the Hot 100 this week with the largest streaming week of the year. What key decisions did you make to help make that happen?
Probably that we didn't think about any of this until the song and video was already out. Our undeniable number one priority has been to build a campaign — or, better said, an experience — that is up to his artistic and creative standards. We stress about creating great art around the album, not achieving big numbers. When the art is great and the approach is creative, fun and inviting, the numbers will come.
It is a celebration of artfulness, self reflection and inclusion. Different elements that are added every day mean different things to different people. Everyone is invited. Everyone is welcome. Everyone is home.
We are more proud of the cultural impact it has achieved so far, and will hopefully continue to achieve, vs. the numbers, charts and awards. Most people will most definitely forget about the numbers but they will hopefully remember how this campaign, and ultimately the album, made them feel.
It was also not only his first No. 1 on the Streaming Songs chart, but his first top 10 on that chart. How did you set this up to ensure that this song would do well there?
Fine Line walked so Harry's House could run. All the work that he and the team has done with the previous album is translating now. It's very rare to see an artist with already 12 years of a career at this level to continuously gain new fans and speak to the youth.
Our favorite comments online are of people who are expressing how Harry's House is the first campaign they get to experience from the beginning, which means they discovered him and his music through Fine Line. This generation of digital and streaming natives is key to all the streaming numbers you see. But besides demographics and strategies, the song — and, yes, the entire album — is that good. It will be on repeat.
The song was not just big in the U.S., but around the world, debuting at No. 1 on both of Billboard's global charts this week as well. Why did it make such a mark globally?
He is a truly global artist and the campaign so far has reached far beyond the core fans.
Shutterstock has reported that since the campaign launched "Doors" and "Houses" have seen their clickability surge 145% and 42% respectively. When you see giant and global brands like Hulu, Samsung, Twix, Adobe, and then Architectural Digest or even sports teams like Sporting Lisbon CP, insert themselves in his house or behind the door you know the campaign has created a pop culture moment. At that moment you just step back and watch magic happen.
In a streaming-first world, are all digital campaigns inherently global?
Yes and no. Campaigns live globally when they become mainstream/pop culture, but they mostly live within niche audience segments and these segments are unrelated to geographic location.
Harry's House is one global place for everyone to be, and most of the time elements from the campaign have trended globally, but we do like to highlight the diversity and flair of different countries and territories. One of the most fun tasks was to translate "You Are Home" in different languages for the print ads we ran in different parts of the world. Every language and translation had slightly different meanings, so inherently a different philosophical meaning. It's funny, but although I'm a Greek native, I might have spent three hours stressing about the proper translation in Greek — there are probably 20 different ways of saying it, similar but also very different in meaning! Every translation was absolutely intentional.
We know that the fans will take every piece and dissect it so we put a lot of thought and intention in the details. I truly admire his fanbase — they make this whole campaign so special and fun. We read everything.
How did the plan for this first single differ from the last album cycle for Harry?
Strategy-wise, the biggest differentiator in this cycle was that we introduced the album theme before the first single. We wanted to set the tone, build the world and narrative of what the album is about and then follow with music and the first single.
Numbers-wise, his audience is much bigger — probably double — and more engaged than when we started with "Fine Line" and "Lights Up." You might say this makes things easier, but it really doesn't; the pressure and expectations externally and internally towards ourselves to deliver what he deserves is much greater. More answers on that tomorrow behind the door.
How is digital marketing evolving through the years?
Digital marketing today is a blend of art and science. "Experts" used to say "know your customer," but today it's more like "know your customer segment." The individual potential customer can be reached with the help of AI and data crunching, but to make true impact, you need to speak to full segments as a whole.
And then when it is time to sell or achieve charting goals we also know how to do it in the most scientific and targeted way. Digital marketing today requires you to be bold, brave, ready to take risks and most definitely ready to fail.